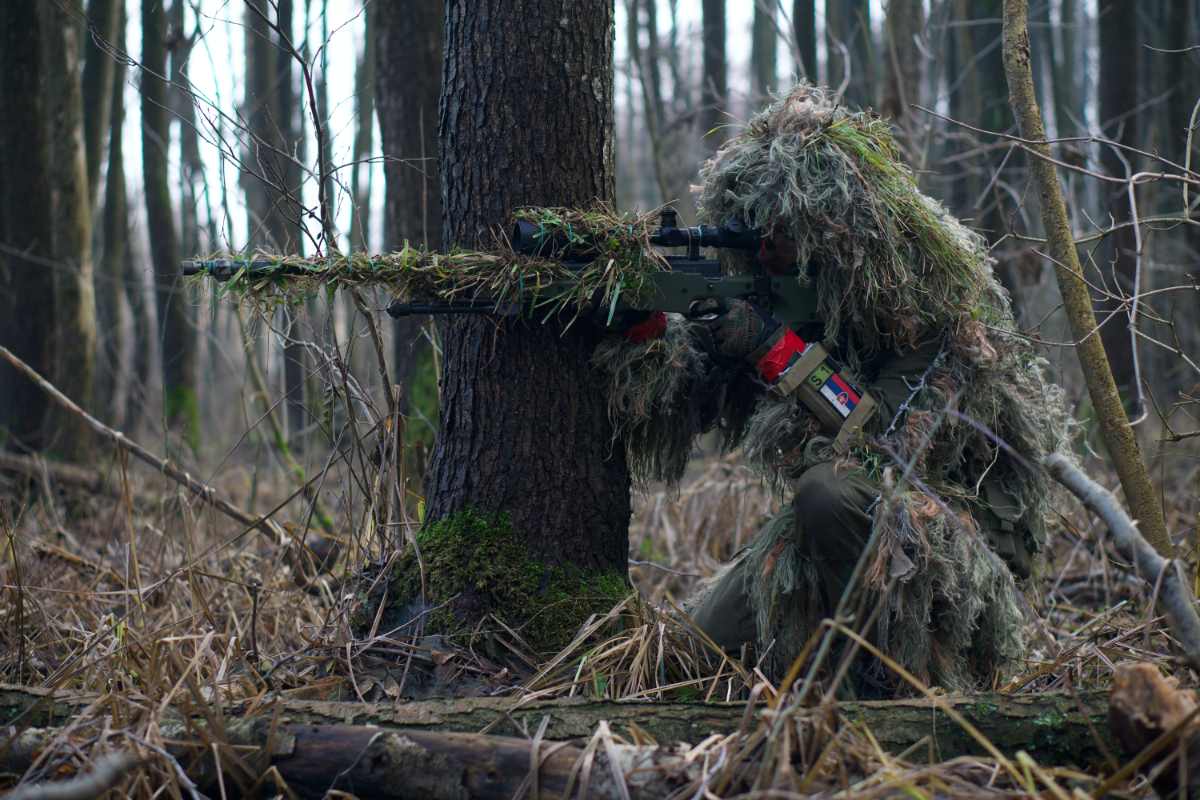 Why Indian Government spends more money on defence than health or education?
National Security is a matter of pride for almost everyone. For maintaining that security, we need Defence Forces. And forces require money, lots of money.
For 2020-2021, India's Central Government is going to spend 15.49% of its total budget on defence as compared to just 3.3% on education or 2.2% on healthcare.
As I have said earlier, National Security is important and is a matter of pride for all of us. But when more than 20% of the country's population is living Below Poverty Line, then it honestly seems senseless to spend so much more money on defence as compared to the sectors that help in social welfare.
So, why isn't the government shifting its spending priorities? Or, is it filled with idiots who don't know about our country's poverty? '
We will cover these questions over here.
Where exactly does money allocated to defence goes?
We will take insights from the 2020-2021 budget, money allocated to defence budget can be divided into 3 parts:
Defence Services – 69% percent of the money goes here. It pays the salaries, and buys new weapons.
Ministry of Defence (Civil) – 3% of the money goes here. This includes Border Roads Organisation, Defence Accounts Department, Coast Guard Organisation among others.
Pension – 28% money of the Defence Budget goes to the Pensioners.
Allocation to Pension
For a Defence service personnel to be eligible for getting the pension, he/she needs to be in service for at least 15 years (20 years if concerned person is at officer rank).
In 1980s, minimum engagement period of defence service personnel was increased from 7 years to 17 years. This resulted in an exponential increase in number of employees eligible for getting pensions.
Below is a graph showing the percentage increase in amount spent on pensions over the decades: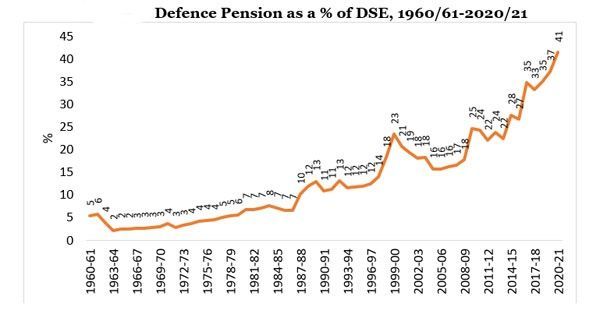 The % of DSE paid for Pensions has rose from 5% (in 1960-61) to 41% (in 2020-21). 
No. of Pensioner (As on April 1, 2019)
| | | | | |
| --- | --- | --- | --- | --- |
| Category | Service Pensioners | Family Pensioners | Disability Pensioners | Total |
| Officers | 54,825 | 19,060 | 9,374 | 83,259 |
| Personnel Below Officer Ranks | 1,70,5574 | 5,93,208 | 2,0,5037 | 25,03,819 |
| Defence Civilians | 34,7779 | 2,54,004 | —  | 6,01,783 |
| Unclassified |   |   |   | 46,869 |
| Total | 2,10,8178 | 8,66,272 | 2,14,411 | 32,35,730 |
As may be clear from the table above, more than 32 million people get pension. That's a huge number and the money going to that has wide scale implication which we will discuss ahead.
There are 2.2 pensioners for every active defence service personnel. 
Reduction not Possible?
People who get pensions have spent a substantial amount of their lifetime in Defence Service. So, its imperative to provide them with pensions on a regular basis. 
This expense can't be lowered but has the capacity to increase itself over the years as we have seen in the graph above.
Under the present policies, Government has to increment the Pension amount frequently and significant number of personnel are added to the Pension Club each year.
So, we can't dispute this portion of the Defence Budget at all because Government is obligated to spend money here. 
Salaries also put a significant drain
As can be observed from the table below, there are more than 14 million active employees drawing salaries from the defence budget. 
No. of Uniformed Personnel (As of 2019)
| | | | |
| --- | --- | --- | --- |
|   | Officers | Other Ranks | Total |
| Army | 42,913 | 11,8,5146 | 12,28,059 |
| Navy | 10,979 | 58,073 | 69,052 |
| Air Force | 12,159 | 1,29,447 | 1,41,606 |
| Total | 66,051 | 13,72,666 | 14,38,717 |
Indian Armed Forces are the 2nd Largest Employers in India and 9th largest in the World. Talking in that sense, IAF gives employment to a large number of people. 
So, any decrease in the number of personnel employed by it will result in unemployment. And this will be a hugely unpopular act, which may result in Political Loss also. So, I personally don't see any changes here.
Honestly, we anticipate this number (14 million) to just increase over the year. Hence, it will put more pressure on the defence budget just like the Pensions. 
Who takes the hit?

Overall, the 60% of Defence Budget goes to the Salaries and Pensions of the active and retired Personnel respectively. In past 10 years, we can clearly register a 10% increase in this portion of the expenditure.
This increase has resulted in shrinkage of budgetary allowance available for other areas like modernisation of forces and acquiring new weapons.
Capital Expenditure
Capital Expenditure is the money spent for building infrastructure, doing research & development on new weapons or bringing modernisation in the defence forces.
35% of the Defence Budget is Spent on this and 65% of the money goes to the Revenue Expenditure (salaries, pensions etc). 
So, the only scope of reduction in defence budget is in the Capital Expenditure, as of now. But, there is a necessary need of investment in defence infrastructure and modernisation to keep the forces up-to-date.
Conclusion
When I had started writing this article, I was trying to write against the "exaggerated" budget allocation to the Defence. But, as I went through the facts and figures, my perception of this so-called 'exaggeration' has changed.
India has fought 5 major wars since Independence. Involvement in numerous Minor Conflicts is also there. Even, at present, India has significant border disputes with its neighbouring countries.
Above all, as stated already, Armed Forces provide employment to a lot of people. So they, in an indirect way, contribute to the economic development of our country.
Last but not least, India wants to maintain its Position of Importance in the world's power balance. So, there doesn't seems any scope for reduction in Defence Budget of India under current policies.
If it decides to changes some of its policies related to pension and employment, then we may see a significant difference. But, that is yet to be seen because of the involvement of a number of complications.